Grimm Jeeper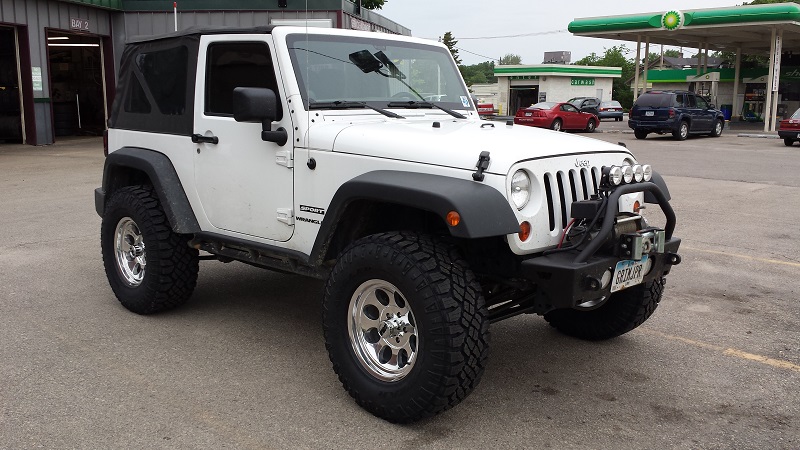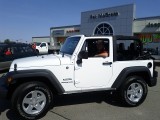 In late September of 2012, shortly after a trip to southwestern Colorado where I rented a Wrangler, I broke down and picked up a new 2012 Wrangler Sport S. It was a pretty base model with just the S package and not much else. It's a perfect platform to build on and I didn't waste a dime on extra options that I was going to change anyway. My plans for the Jeep was to build it up with some basic modifications that will make it very trail capable while still being able to drive it daily. While my long term plans will probably evolve over time, I really want to enjoy this Jeep. It's good right off the showroom floor but it needs some work to live up to its full potential. The plans from the beginning were a modest lift and 35" tires, along with several other mods to support off roading.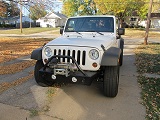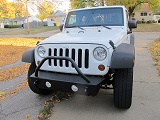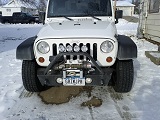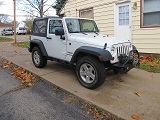 The first round of parts included the Warn Rock Crawler Stubby Front Bumper that would accept the Warn XD9000 winch that has been with me for almost a decade now. A winch is pretty much standard equipment for a good trail Jeep and mine was not going to be any different. And the bumper came with some solid mounts for shackles as well as a bar that I could modify to hold a set of off road lights. In addition to the front bumper, I added some Smittybilt SRC Rocker Guards to keep from denting up my rocker panels too badly. They required a fair amount of massaging to install but they were inexpensive so I don't mind so much if they get banged up. Early in the winter I picked out some lights to go on the front bar. I went with the PIAA 530 Driving LED and the 530 Fog LED lights. They're compact round LED lights that fit well on the small bar on the winch bumper. I know the LED light bars are popular these days but I'm a fan of the round lights on Jeeps. The Warn bumper does not come with tabs for lights on the bar. I welded the tabs on myself so that I could mount the lights the way I wanted.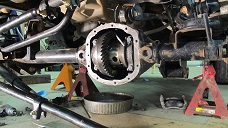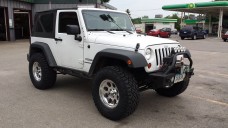 My next upgrade had to wait until I could save up the money and do a whole bunch all in one shot. I started with a Rubicon Express 2.5" lift kit with monotube shocks along with JKS Qucker Disconnects swaybar links. The lift was installed to accommodate the 315/70R17 Goodyear Wrangler Duratrac tires on 17x9 Mickey Thompson Classic III wheels. Of course, the factory installed 3.21 gears in my Jeep weren't even up to the task of pushing my factory stock 255/75R17 tires down the road. Going to the 35" tires would have killed the performance of my Jeep. So I did a a full upgrade of the differentials with gears, lockers, and chrome molly shafts while I was in there.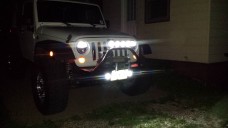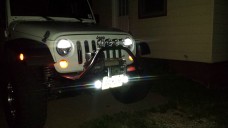 Not one to leave well enough alone, I decided that I needed to upgrade the mediocre headlights to match the extra lights I added. After doing some research, I decided to go with the Truck-Lite 7" Round LED Headlamp. It's a simple bolt in conversion but it does require an adapter for the plug, along with an anti-flicker harness. Apparently the newer Wranglers have a built in system to help detect a burned out headlamp that pulses the electricity to the headlight. That's fine for a standard incadescent bulb but it makes the LED lights flicker. So a harness with a few capacitors wired in solves the problem. I also decided to go with LED fog lights to match the rest of the lights on the Jeep. I picked up the PIAA Driving Light Kit made specifically for the Wrangler. It contains the same type of light I put on the light bar but it also includes a bracket to mount it in place of the factory fog lights. It bolted into the bracket in the bumper just fine. However, for what ever reason the kit ships with the driving lights, rather than the flood lights you would expect in a fog light kit. But no matter, I just so happened to have a set of the flood lights. And because the two sets of lights use the same outer shell, they are trivial to interchange. So now I'm running 4 driving lights aimed in a spread pattern and the flood lights, aimed properly, in the fog light location.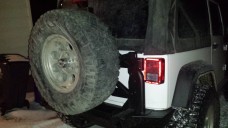 Once I had my larger tires, I knew I was going to have to do something about the spare carrier. I have a full size spare and it has a tendency to bend the hinges in the door when it hangs on the factory tire carrier. There are several options for fixing this shortcoming. I decided to go with a Warn Elite Series Rear Bumper. I added the optional tire carrier and Hi-Lift jack mount. The tire carrier attaches to the bumper mount which is attached to the frame. This takes all of the weight off the rear door and saves the door hinge. The tire carrier is attached to the door via a swivel mount that swings out the tire when the door is opened and swings it back in when you close the door. And the jack mount makes it easier to haul the cumbersome jack with me without having to find room inside of the space challenged Jeep.
I decided that the factory stereo that came in my Jeep was horribly inadequate so I upgraded it. But I didn't take any pictures so I'll write that up later.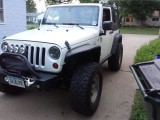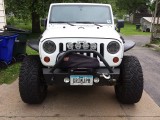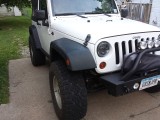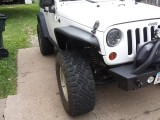 Naturally, driving a Jeep involves finding the limitations of the stock parts. One of those very limited stock parts are the factory fender flares. They're flimsy plastic and they don't hold up to anything. I knocked one loose on a wheeling trip. I was able to get it back in place but I didn't want to keep having this problem. So it was time for an upgrade. I decided to go with Poison Spyder Customs Front Crusher Flare, and Rear Crusher Flare, both in standard width steel. They really open up space for bigger tires and they're significantly stronger than the factory flares. The factory flares just attach to the flimsy sheet metal. These flares come with a set of brackets that tie them to the inner body structure and really strengthen them. They should hold up to the trees and rocks I'm sure to encounter off road. They come unpainted so I had a local shop powder coat them, with an underlying zinc coating for rust protection. They finish of the powder coat makes them almost look like plastic flares. The rear flares were back ordered so they're not on yet but they did show up so they'll be installed soon.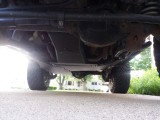 The latest modification for the Jeep is a preventative meausure since I didn't wait for something to get broken first, or so I thought. After a bunch of research I settled on a River Raider Complete Skid Plate System. As I started to install them I discovered that the factory crossmember had already taken a small hit and it had a fairly significant dent in it. This made installing the engine and transfer case skids slightly more challenging but I made it work. The plates are pretty heavy duty and difficult to wrangle but using a floor jack and some patience, along with reading the instructions, was all it took to make it work. Now that this skid plate system is in place, I feel more confident about driving my Jeep over obstacles that may reach up and bite something important. Jeeps are tough but I've seen a stray rock on a relatively mild obstacle take out a transfer case and leave a guy with an inoperable vehicle. I don't want that to happen to me so I'll take a few dozen pounds of prevention.